Wildlife in Alaska
Wildlife abounds in Alaska. Anchorage is probably the only city in the United States that has a moose problem; there are hundreds within the city limits. There has even been talk of declaring a bowhunting season for them in the city's Hillside suburb. Grizzly and black bears have been shot within the city in recent years, too.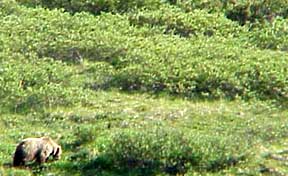 Although grizzlies are around -- one was shot not quite 20 years ago just a few blocks from downtown Anchorage -- they're more elusive than moose. Denali National Park and the MacNeil River State Sanctuary are two of the places where they're most easily seen by tourists. Access to the MacNeil River sanctuary, where they can be observed fishing for salmon, is restricted to holders of a limited number of permits that are issued in a drawing held each March. It's easier to get into Denali but visitors are less likely to get a closeup view of bears. The photo above, of a bear grazing on a slope several hundred yards away, was taken at Denali.
Black bears are around too. Alaska Department of Fish and Game biologists estimated in the spring of 2007 that about 100,000 of them make Alaska their home. Visitors are most likely to see them at a town dump or, in a fish camp or town in Bush Alaska, raiding a fish drying rack. Hunters in Prince William Sound use boats to look for them foraging along the beaches. People taking a Kenai Fjords day cruise may see one or more on a mountain slope. Black bears' habitat is forested areas but they may be encountered anywhere from alpine areas to sea level.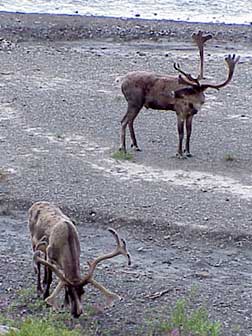 Haines, in Southeast Alaska, and Homer, on the Kenai Peninsula, have large populations of eagles in the winter. Haines has a bald eagle festival each November.
The state has hundreds of thousands of caribou that roam in several herds, the most controversial of which is the herd that roams the Arctic Slope range that is thought to hold huge undeveloped oil reserves. Another herd, the Western Arctic herd on the Seward Peninsula in Southwest Alaska, has about 500,000 caribou.
No telephoto lens was necessary to capture the caribou at left. In fact, even Vtech kidizoom cameras could be used to take pictures of it.They posed in the bed of a roadside stream for passengers on a Denali National Park tour bus.
Wildlife is easier to see at the park than is Mount McKinley, which often is shrouded in clouds.
There's plenty to see in and above the ocean, too. Federal biologists estimate there are 350 beluga whales in Cook Inlet. Passengers on tour boats in the Kenai Fjords National Park may see pods of killer whales or humpback whales, as well as seals, sea otters, cormorants, puffins, eagles and other birds. Several companies offering Kenai Fjords park tours can be found at the small boat harbor in Seward.